Welcome to this week's Warhammer Tactics! Today, we're going to be diving into everything you could ever want to know about dice odds. If you're...
What's better than a psychotic band of resurrecting warriors like the Necrons? Well, if you ask Josh over in our Members Area, it's the literally...
Hey Everybody, the Dak here today to talk about the new master of executions. We certainly seem to be getting lots of masters of...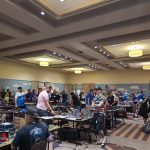 Today we bring you the Flying Monkey Con Winning Lists for the Warhammer 40k tournament. Held in Wichita, Kansas this was another...
There are new battles coming to the skies of Warhammer 40k. It's Aeronautica Imperialis. This is a new dogfighting style game coming to 40k....