Another week, another set of pre-orders from Games Workshop are here! We got more incoming for Kill Team this week and some limited minis...
Once again, it's time for another Rumor Engine from Games Workshop. This week, we are left with what seems like a two-segment tail. While...
Tomorrow June 28th at 3pm EST I will be playing Tyranids vs Jack Harpster on Night at the Game Table PRO. The game will...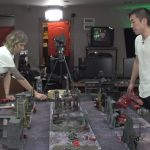 It's a battle for the ages this week as Eve, the reigning Queen of the Necrons, takes on a special guest and friend of...
The NOVA Open, one of the largest wargaming conventions and tournaments in the world, is kicking into high gear! Fans are flocking to the...