Warhammer 40K NEW EDITION!!!! You read that right! No time to wait, let's look at all the announcements that we've been waiting...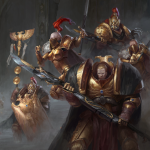 Psychic Awakening 8 War of the Spider has given us rules for the Talons of the Emperor. Talons of the Emperor are...
Hey everyone this Thursday at 2pm EST Nick Nanavati will be live streaming a game with new Aeldari from Psychic Awakening vs...
The Imperial Knights codex brings to the battlefield a set of hard-hitting new stratagems that offer a range of new tactical options for your...
In previous articles we've touched on the four kinds of gamers as well as the value of passive thinking. This week's article, and the...