In this week's epic battle report, we're seeing the return of John Cook and his ferocious Space Wolves! They'll be taking on Clifton and...
Today we are going over some of the core rules for Apocalypse. First off this is honestly a new game with a very different...
Magic Monday is upon us once again, and we've teamed up with the experts at Pat's Games to once again bring you two brand-new...
The Dak here, and today im going to break down the Shadowspear box set going up for pre-order tomorrow, and whether or not you...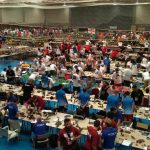 Part of competing and winning a game of Warhammer (or any similarly cerebral competition) is the challenge of out-thinking your opponent. To do this,...