Welcome to Warhammer Tactics! Today, we're changing gears up quite a bit. We aren't going to be looking at ways to make you play...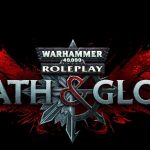 Guess what's next-in-line for pre-order? GW just announced that "Wrath and Glory", the heavily-anticipated RPG adaptation by Ulisses North America will start its pre-sale...
Hey There Everyone its The Dak, back at it again with another "should I buy" article. This one is coming in a bit late,...
If you're anything like us, you're probably blown away by the new 8th Edition releases! Not only all new Primaris Marines, but a whole host...
Well its finally happening, Warhammer 40k is making it to prime time. Over the years Games Workshop has been steadily expanding its IP's into...