Hey everyone, awhile ago I wrote an article on my 7 step process for winning GTS, where I covered the exact process I use to...
Todays Battle report is between John Cook's Elite Space Wolves and Kevin's Battlewagon heavy Orks. Both sides are bringing out some of their more...
Today we have a special tactics article all about the new stratagems, warlord traits, and relics for Word Bearers (WB) in the...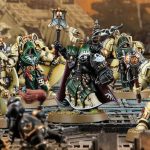 The next upcoming Psychic Awakening book, "Ritual Of The Damned", will feature Thousand Sons, Grey Knights, and finally Dark Angels. The Grey...
Things are heating up in the cursed metropolis of Ravnica, and we've got an epic battle brewing this week on Nights At The Game...