Soul Wars has brought a new era upon Age of Sigmar. As a new dawn rises, a new faction is also born in the...
After weeks and weeks of excited speculation, Wrath And Rapture is now fully available for pre-order! Fans everywhere have been waiting to see exactly what...
In my article a couple weeks ago, I talked about how to control the area around objectives.  However there is one location on the...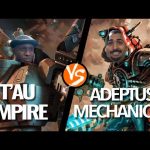 On tonight's episode of Nights At The Game Table: We've got Clifton's Heavy T'au Empire vs. Josiah's Treaded Adeptus Mechanicus.
The Grot Horde has returned once again! Fans of NATGT will likely have seen Kevin's rampage across the channel in the past few weeks. His...