The internet has been abuzz with all the information about the new plastic Adepta Sororitas. Each new model that has been teased just seems...
Now that Guilds of Ravnica has been released to the world, players everywhere are racing to build the best decks that they can! Thanks to...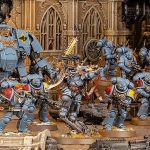 Space Wolves just got brand new rules from the new Psychic Awakening book, "Saga of the Beast". Below you will find that...
Magic Monday is upon us once again, and we've teamed up with the experts at Pat's Games to once again bring you two brand-new...
In my day job, I talk about something called 'Tribes" Typically what I'm referring to are people who have similar interests to you. Most of the...