We are finally there!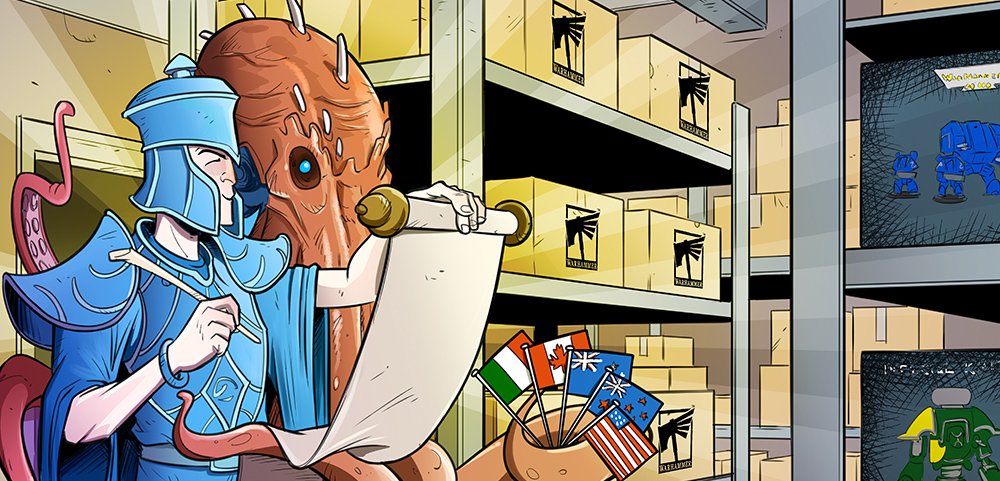 There are more Games Workshop re-openings being announced! GW just gave an update their online stores in the U.S., Canada, Australia, Italy and New Zealand. Those countries were waiting on re-opening news due to Covid-19, but a plan has now been made! Finally, tomorrow — May 7th — those countries will start seeing more signs of life from GW!
What does that mean?
It means (like in our article from a couple of days ago nightsatthegametable.com/the-webstore-is-back/ ) the online stores will re-open but with limited resources. The warehouses are functioning with limited personnel and they have changed daily practices, slowing down the usual processes. Because of that, there will be a queue to get into the online store. Once past the queue, people can wander around the shop and order their stuff. If you are inactive on the website for more than 30 minutes, you'll be kicked out. So, once you're in, it is not the time for you go for that walk with your dog. Do your thing in the shop right away and then go for a little bonding time with your best friend (you are his or hers, so be worth it).
What can I buy?
You can buy pretty much everything but some products will have limits on them. Paints, glue, brushes and the like have a limit of up to 3 per customer. The boxsets of Prophecy of the Wolf are also limited. It's only fair. This way, everyone can get stocked back up as much as possible.
Out of stock?
Some products will inevitably go out of stock, but GW promises to stay on top of things. The "email me when available" option will be your best bet to keep track of what you want and when it's back in stock.
Shipping
The "ship to store" option will not be available, since most of the stores are still closed. GW is helping us out with this by cutting in half the amount required for free shipping. Free shipping now begins when you spend around 32$ US and 40$ Canadian (I don't know the prices for the other countries, but you'll see soon enough).
What's next?
Forgeworld and Black Library are still down. It might take a while for them to re-open. This makes sense since they are not the main revenue streams for GW. You can expect more news on these in the days or weeks to come. In the mean time, let's stay positive! The future is brighter and brighter for us hobbyists and the restock for our hobby is on its way.
New releases?
The White Dwarf magazine shows that there were a couple of releases planned to hit the shelves before the quarantine. That gives us a little bit of foresight on what kind of release schedule we'll see when GW starts producing and shipping their new releases. No new releases have been announced with a specific dates attached. The Games Workshop re-openings will not include the new Giants, Lumineth or Psychic Awakening releases.
Finally!
We can all rejoice in the good news that Games Workshop re-openings are continuing to happen. Even if we have to be patient in the wake of all these changes, we will get our much needed Nuln Oil and our beloved Agrax Earthshade (which were the top 2 of the most sold items according to GW when they re-opened online shops in the rest of the world). What are you looking the most forward to getting? Any new releases catching your attention that you can't wait to spend money on? Personally, I am looking forward to buying myself a Chaos Knight and a Heldrake to add to my Apocalypse project… maybe a flock of Heldrakes!
Do you want a free army list designed for just for you by one of our team members?
Click this link to book a session with one of our team members to find out more: https://nightsatthegametable.youcanbook.me
For those of you who already know how to play Warhammer 40k, we have a free guide. That guide teaches you how to paint professional-looking miniatures, gives advanced tournament tips from a 40k World Champion and tells you how to find more time to play as well as simple methods to get cheap miniatures! You can get that guide here: http://bit.ly/40k-free-guide-fb
If you'd like a breakdown of the advanced tactics and strategies for all 40k armies, painting tutorials from a Golden Demon winner, secret battle reports and tons more consider becoming a Nights at the Game Table member today. Click on this link to learn more: http://bit.ly/nights-40k-members-fb